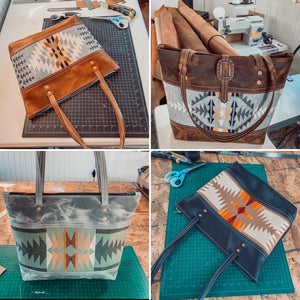 Gray Mountain Leather Co.
Made-To-Order Elkhorn Tote
Regular price
$335.00
$0.00
Unit price
per
PLEASE READ FULLY:

With the purchase of a Made-To-Order Elkhorn Tote, recipient will be able to customize their own Elkhorn Tote to fit their needs and style preferences.
***The design process will begin immediately, but please allow a 6-8 week turnaround time for the completed bag to be built and shipped.
Recipient will be able to choose:
Closure style: Zipper, buckle, or open-mouthed
Leather color: Weathered Brown, Saddle Tan, Black, or Slate Grey
Pendleton Wool inlay strip: video chat will be scheduled to fully display over 15 available options.
Please get in touch with me via email (graymountainleatherco@gmail.com) to start planning your bag. 
 * Elkhorn Tote approximate measurements:
12-13" tall
15-16" wide at the opening
12" x 4" base
They include one internal leather phone pouch, an internal D-ring to clip whatever you'd like to, and an external back pocket.
Looking forward to working with you on your new Elkhorn Tote!
 Jamie Lerum
Gray Mountain Leather Co.
---